ASPIRE: Scholarships for Service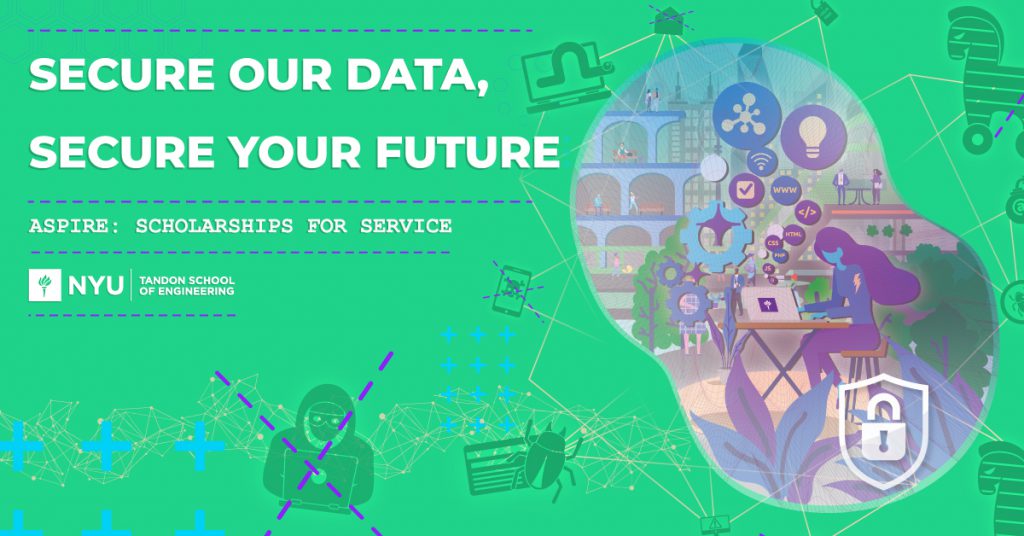 Each fall, approximately a dozen students pursue their bachelor's, master's, and doctoral degrees with federal funding from the National Science Foundation and the Department of Homeland Security. These grants are part of NYU Tandon School of Engineering's ASPIRE (A Scholarship for Service Partnership for Interdisciplinary Research and Education) program.
Please note that the NYU School of Law also offers an ASPIRE program option, which you can learn about here.
Government funding provides full scholarships (tuition, books, stipend, and professional development allowance) for students to study cybersecurity at NYU Tandon for up to three years.
After completing their coursework, students will help protect the nation's information infrastructure by working as security experts in a government agency for at least the amount of time they have been supported by this program. Since 2002, 100 students have graduated with help from this program, earning degrees in computer science, electrical engineering, engineering management, forensic sciences, business administration, information systems technology management, national security studies, and public policy. They have gone on to work at numerous government agencies, national laboratories, and federally funded research and development corporations.
For a full list of agencies who have hired our ASPIRE graduates, click here.
The scholarship covers 100% of NYU Tandon tuition and fees. The scholarship also includes an academic year stipend of $25,000 (for undergraduates) and $34,000 (for graduate students) per year for living expenses and a $6,000 annual allowance for professional development and a $2,000 allowance for textbooks. More information
Eligibility requirements:
United States Citizens

Current NYU Tandon Student or applicant for next Fall (NYU Tandon admissions application must be submitted before scholarship application)

18 years or older

Undergraduate Juniors or higher (including graduate students)

Undergraduate applicants must have GPA of at least 3.0

Graduate applicants must have GPA of at least 3.2
Applications are being accepted on a rolling basis for the 2021-2022 cycle. Click here for more information about the application process. 
Related Links