ASPIRE: Scholarships for Service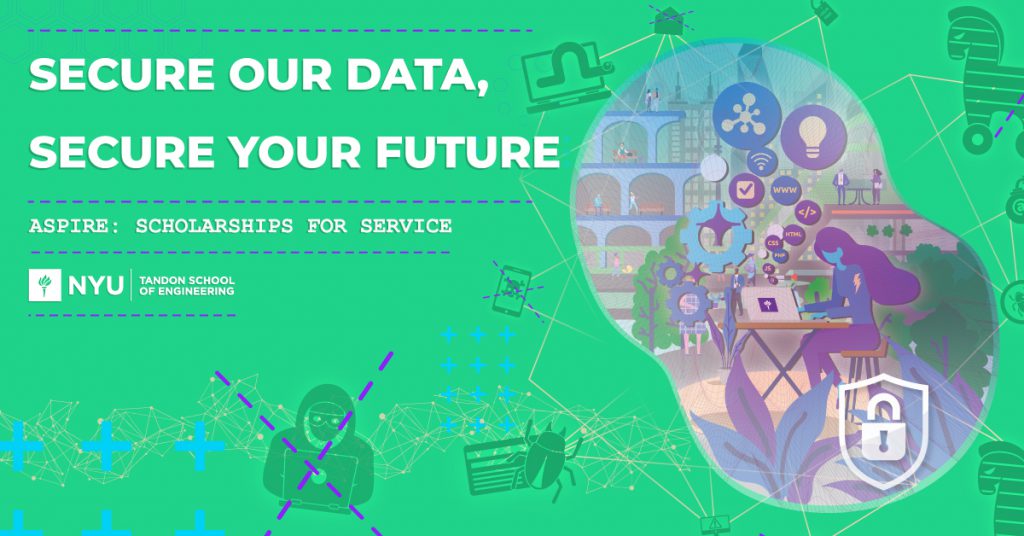 ASPIRE Scholarship Overview
The ASPIRE (A Scholarship for Service Partnership for Interdisciplinary Research and Education) scholarship assists in educating and training the next generation of cybersecurity experts. The program aims to produce cybersecurity specialists who understand information-security issues from a multidisciplinary perspective. ASPIRE is funded by the Federal Scholarship for Service (SFS), a partnership between the National Science Foundation and the Department of Homeland Security to strengthen the United States' information safety.
Please see the official SFS program website for more information.

At NYU, approximately 6 – 8 scholarships are awarded annually to both undergraduate and graduate students who are committed to studying cybersecurity, either as a major, minor, or in fulfillment of elective requirements, as well as committed to training and working in cybersecurity post-graduation.
Funding & Benefits*
— Full tuition costs and mandatory university fees for up to 3 years (this excludes meal plans, housing, parking, and other extraneous fees that you may incur as a student)
— Annual stipend of $22,500 for undergraduate students and $34,000 for graduate students. This stipend is distributed over the 9-month academic period from September – May.
— Professional development allowance (conference fees, professional certification, etc.) of up to $6,000 per year.
— Customized mentoring and advising from ASPIRE faculty advisors and ASPIRE alumni.
— Networking and activities with interdisciplinary cohorts of other ASPIRE scholars.
— Dedicated career-planning support from ASPIRE staff.
*Please note that students who are admitted into the NYU ASPIRE Program and accept the scholarship are not permitted to accept any other federal Title IV financial aid, including federal loans. Questions regarding financial aid should be directed to NYU's Office of Financial Aid.
Service Requirements
In return for their scholarships, recipients must agree to work after graduation for the Federal Government or, subject to approval of the NSF program office, for a State, Local, Tribal, or Territorial Government; or a Federally Funded Research and Development Center, in a position related to cybersecurity for a period equal to the length of the scholarship funding.
Summer Internship
During the summer between the first and second year of the program, ASPIRE scholars will need to secure and participate in a summer internship with a US government agency. This is a requirement of the program. For more details on the ASPIRE internship please see the SFS FAQ question No. 7.
Post-graduation Position
After graduation, students will help protect the United State's information infrastructure by working as security experts in a US government agency for a period equal to the length of the scholarship funding. For more details on the federal employment commitment, please see the SFS FAQ.

Since 2002, 100 students have graduated with help from this program, earning degrees in computer science, electrical engineering, engineering management, forensic sciences, law, business administration, information systems technology management, national security studies, and public policy. They have gone on to work at numerous government agencies, national laboratories, and federally funded research and development corporations.
For a full list of agencies who have hired NYU ASPIRE graduates, click here.
Program Coordination
ASPIRE for any NYU school other than Law
Professor Nasir Memon, Vice Dean for Student & Academic Affairs and Co-founder, NYU Center for Cybersecurity at NYU Tandon School of Engineering
ASPIRE/Cybersecurity Service Scholarship for the NYU School of Law
Professor Randal Milch, Co-Chair, NYU Center for Cybersecurity and Professor of Practice, NYU School of Law.
Cybersecurity coursework for both ASPIRE programs and the Cybersecurity Service Scholarship is offered through NYU Tandon School of Engineering.
Email Contact:
aspire.admissions@nyu.edu
Eligibility Requirements
In order to be eligible to apply, the following criteria must be met:
— Applicants must be United States citizens, 18 years or older
— NYU Undergraduate student with 2 years to degree completion, or an incoming, first-year Master's or Law student; or a PhD student with at least 2 years remaining.
— Students must be enrolled full-time in an on-campus degree program at NYU. For incoming Master's students, students must be admitted to an NYU program and intend to enroll full-time and on-campus. Please see "Application Instructions and Deadlines" below for application deadlines and guidance on when to apply.
— Undergraduate applicants must have a GPA of at least 3.0
— Graduate applicants must have a GPA of at least 3.2
Application Instructions & Deadlines
NYU School of Law Students: To apply to the NYU School of Law ASPIRE/Cybersecurity Service Scholarship program option, please follow these instructions.
All other NYU Students: please follow these instructions
FAQs
As an ASPIRE student, what courses will I take?
You will take all the coursework required for your degree program, but your elective courses will be tailored to include cybersecurity courses offered through NYU Tandon School of Engineering. The ASPIRE faculty mentor will advise you on your cybersecurity elective options. The following are some examples of the elective options:
Graduate Level Courses
CS-GY6233 Introduction to Operating Systems*
CS-GY6843 Computer Networking*
CS-GY6033 Design and Analysis of Algorithms I
CS-GY6813 Information, Security and Privacy
CS-GY6823 Network Security*
CS-GY6903 Applied Cryptography*
CS-GY9163 Application Security*
CS-GY6963 Digital Forensics
CS-GY6573 Penetration Testing and Vulnerability Analysis*
CS-GY6313 Information Visualization
CS-GY6803 Information Systems Security Engineering and Management*
CS-GY 9223 Mobile Security*
CS-GY 9223 Offensive Security*
CS-GY 9223 Cloud Security*
CS-GY 9223 Operational Technology Security*
* Courses that are required for the NSA Cyber Ops Specialization, a unique, highly technical certification that is offered by NYU as a designated National Center of Academic Excellence in Cyber Operations. The Cyber Ops Specialization is not required by ASPIRE graduate students, but is encouraged.
Undergraduate Level Courses
CS-UY 3923 Computer Security
CS-UY 3933 Network Security
CS-UY 4753 Application Security
CS-UY 4793 Computer Networking
CS-UY 4763 Information Systems Security Engineering and Management
CS-UY 4773 Penetration Testing and Vulnerability Analysis
CS-UY 4783 Applied Cryptography
EL-GY 9423 Computer Electronic Devices and System: Intro to Hardware Security & Trust
Do I need to have a technical background in order to apply?
If you are applying for an engineering or computer science program at NYU Tandon, a strong technical background in computing is needed. This is similar for computer science programs within Courant. If you are applying to other NYU schools, some amount of technical knowledge is desirable, but not necessarily expected.
I'm interested in cybersecurity, but my background is in law, business, policy, or another non-technical discipline. Should I apply for the scholarship?
Yes. The program can help you obtain the needed knowledge in information security and cybersecurity via your required ASPIRE coursework.
I'm interested in law, business, policy, or another non-technical discipline, but my background is technical. Should I apply for the scholarship?
Yes. You are exactly the type of professional the federal government is looking for. The ASPIRE program will require that you take some additional technical courses – these courses will be selected based on your background and interests.
I am interested in information security and my background is technical, but I am not interested in other non-technical disciplines. Should I apply for the scholarship?
Yes. Many students in our program fit this description and it is not a problem to pursue a purely technical program of study.
Do I need to be a student at one of the NYU schools in order to apply?
To apply for an ASPIRE scholarship, you must be admitted into, or are already a student at NYU.
Do I need to be a U.S. citizen to qualify for ASPIRE?
Yes. You must be a U.S. citizen to receive an ASPIRE scholarship.
I am a current Master's student at NYU. Can I apply?
Yes, provided you are at least one and a half years away from graduation while taking classes full-time. In most cases, this means that you need to apply before you have finished your first term. In a few exceptional cases, students that are one (1) year away from graduation may also be admitted.
Is the ASPIRE scholarship for full-time or part-time students?
The ASPIRE scholarship is only available to students who enroll for a full-time, on-campus degree at NYU.
If my program is in a blended format – both on-campus and online – am I eligible to apply?
No. In order to meet eligibility requirements, your academic program must be fully in-person at either the NYU Tandon campus or at the NYU Washington Square campus. For example, the MS in Cybersecurity Risk and Strategy program is not an eligible program for ASPIRE.
If I were to receive funding for only 1 year will I still need to dedicate 2 years of service?
You will receive funding based on the number of years you have remaining towards your degree completion, which in most cases is 2 years. Rarely is one year of funding granted. Your service obligation after graduation is commensurate with the length of the scholarship. So, for example, if you received funding for 2 years, your service obligation is 2 years.
Which graduate degrees within Tandon and NYU in general fall under the applicable degrees of study?
Any full-time, on-campus MS degree at NYU Tandon makes you eligible to apply to the ASPIRE scholarship. Traditionally, most students funded have been in the MS Computer Science or MS Cybersecurity programs.
Students from other programs at NYU have been funded provided they have sufficient background and are willing to specialize in cybersecurity as it applies to their own discipline.
Are there GPA requirements I must meet while enrolled as an ASPIRE scholar?
Undergraduate students must maintain a GPA of 3.0, and Graduate students must maintain a 3.5 GPA.
The SFS FAQ mentions a mandatory internship. Does ASPIRE require that I serve this internship?
Yes. All SFS (ASPIRE) students must participate in an internship during the first summer of the program. For more details on the ASPIRE internship please see the SFS FAQ question No. 7.
Is there a post-graduate employment commitment for ASPIRE?
Yes. You are obligated to work for the length of your scholarship funding (in most cases, 2 years) at a federal agency after graduation. This means you must be able to meet the criteria for federal employment, including security clearances. For more details on the federal employment commitment, please see the SFS FAQ.
Is the post-graduate service commitment a paying job?
Yes, that's correct. The service commitment is paid employment with an approved agency.
What sort of jobs will ASPIRE prepare me for?
ASPIRE will prepare you for jobs at various levels in the federal government. Here is a list of organizations where our alumni have been placed.
After graduation, am I placed into a position or do I need to seek out a partner organization and apply for a position of my choosing?
You will have to conduct a job search and apply for positions within US government agencies yourself. However, you will be greatly supported by the ASPIRE faculty mentor, as well as the SFS team, in your job search. NYU receives recruitment visits from federal agencies. There is also an annual job fair organized by DHS and NSF to help place SFS ASPIRE students.
Do you charge an application fee for the ASPIRE Scholarship?
No, there is no application fee.
What is the tax status of my ASPIRE scholarship? Please refer to the IRS Instructions via Publication 970 regarding the taxability of scholarships.
What other scholarship opportunities are available if I do not meet ASPIRE eligibility?
At the graduate level, you're encouraged to consider the NYU Cyber Fellows program.
Additional scholarship information:
NYU Tandon Graduate Admissions Tuition & Financial Aid
NYU Tandon Undergraduate Admissions Financial Aid & Scholarship
NYU Financial Aid Scholarships & Grants